Building the TLA Brand
The Challenge
In Late 2019 our team was challenged to rebrand The Lead Agency (TLA), to coincide with its 18th birthday, in February 2020. After years of growth and increasing work on the product base, TLA needed a brand that represented the evolution of our ecosystem and a fresh visual language. The goal was to reflect the team and the TLA spirit within a modern brand identity.
"We spent a lot of time talking to team members who had seen the brand evolve from a small business to a large corporation. It was important that we understood the journey of the brand, so we could put forward concepts that were reflective of a proud past, but strategies that looked towards a brighter future." 
Jonny Kimber, Lead UX/UI Designer of TLA
The Process
The design team ran a double diamond process to deliver the overall brief. This four-step process (discover, define, design, deliver) is a problem-solving framework used by teams across the world to reach a desired solution. The team kicked off with a discovery phase — crucial to allow the team time to process the brief and provide purpose and direction. The intensive research period included staff surveys, stakeholder interviews and workshops to understand existing assets.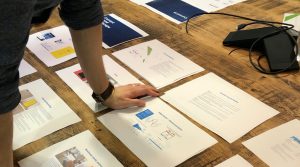 In the second stage of the double diamond process – the definition phase – consisted of filtering through the information received from the discovery phase and elaborating on this, pulling data apart and synthesising information. This crystallised direction for the team and gave intent to deliver the brief whilst finalising mission, vision, values and more.
The third phase of the project – the design phase – started with hand-drawn concepts informed by the entire journey so far. The designs were kept simple until strong ideas started to emerge, which is when the team starting delivering computer concepts in colour and detail. The only rule at this stage was 'No idea is a bad idea'. The final deliverable at this stage was a presentation to senior stakeholders to choose the new brand identity.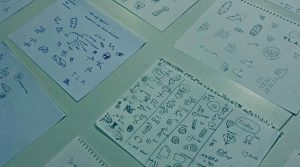 Results
The final stage was the delivery phase and with a brand identity chosen, the team started to roll out the new visual language to print and digital touch-points, along with communicating the new vision to the rest of the business. This is where the fun really starts, as care needs to be taken to ensure the team launches the best possible version of the concept and in a timely manner. Elements covered are touchpoints – website, email signatures and customer-facing collateral.
"The team are thrilled with the new brand and the past 4 months has been such a journey for us. We've had many late nights, lots of coffee-runs and a lot of hard decisions to make but they've been offset by those amazing 'a-ha moments' that designers live for… It has all been worth it! We now have a modern brand that does justice to our 18 years in the automotive space. This truly is the start of a new chapter for TLA."
Jonny Kimber, Lead UX/UI Designer of TLA